All Around The World – Anthony Johnson / No One Knows – Tough Tone

RUPA RUPA RECORDS' brand new 7" available, featuring on A side the new Anthony Johnson's tune "All around the world", and on B side "No one knows" by Tough Tone Band.
The riddim performed by Tough Tone and produced by Rupa Rupa Records is named "No one riddim". The riddim reminds an early rub-a-dub strictly from Jamaican roots. and Anthony is performing the song with his powerful lyrics.Tough Tone are a reggae band playing roots reggae music enriched by dub, funk and soul music.
The videoclip (view) is well made and well performed by main actor Antonio Speranza, featuring the band's musicians. It was filmed in Cilento (South Italy), their homeland and was produced by Immaginarti.
The single is available on 7"vinyl at www.i-nity.com and all digital stores.
Lion Soldier 7" - LIMTED EDITION -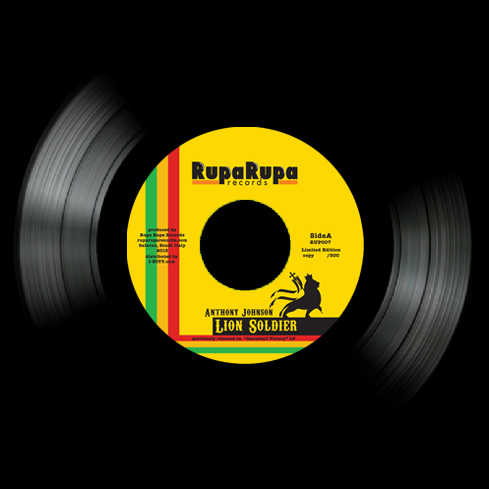 Out now Lion Soldier, on 7" vinyl support. One of the best tunes by Anthony Johnson, extracted from the Dancehall Victory LP.
Lion soldier played by several top sound systems all over the world is out now on 300 copies LIMITED EDITION only for 45rpm vinyl lovers.
Anthony Johnson perform, as usually, this Ska tune with his veteran voice and conscious lyrics, collecting another crucial stone in his mighty career.
Don't miss !!!
Rupa Rupa Showcase vol. 1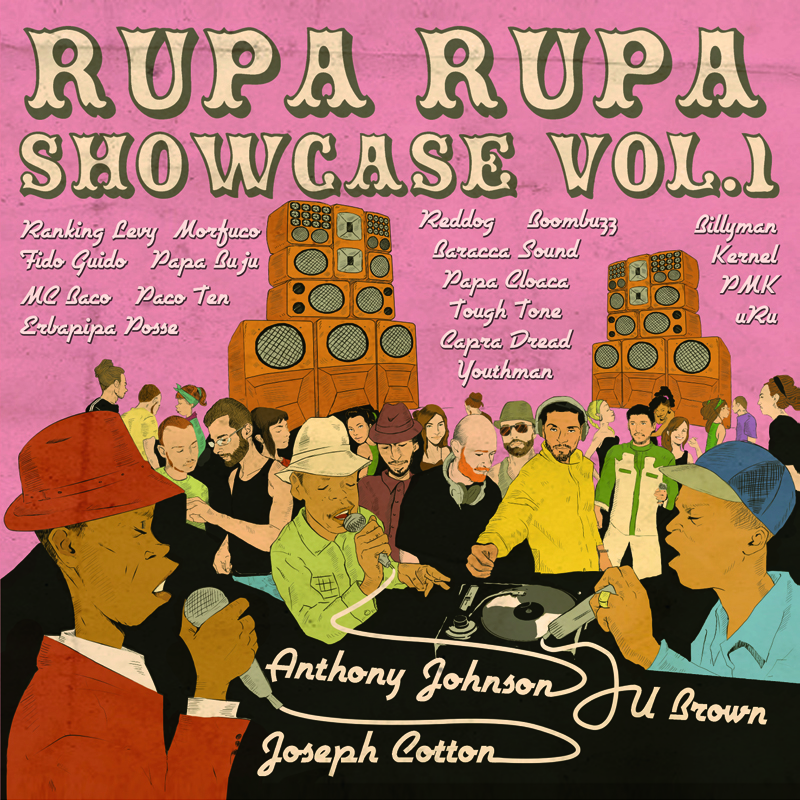 Dal 2006 ad oggi sono passati tanti amici nel nostro studio, con i quali abbiamo condiviso splendide giornate passate ad ascoltare e creare musica, e a formulare idee e progetti musicali da realizzare insieme. Spesso, molte canzoni, bellissime, rimangono chiuse negli scrigni digitali dei nostri computer senza avere la possibilità di essere inseriti in progetti più ampi o specifici come sarebbe giusto e doveroso, e come noi stessi vorremmo.
Questa è la storia di molte delle canzoni del Rupa Rupa Showcase vol.1, una raccolta di 19 tracce che racchiude il meglio della produzione non edita di Rupa Rupa Records, e alcune delle cose stampate solo in vinile ed ora disponibili anche in formato CD e su I-Tunes.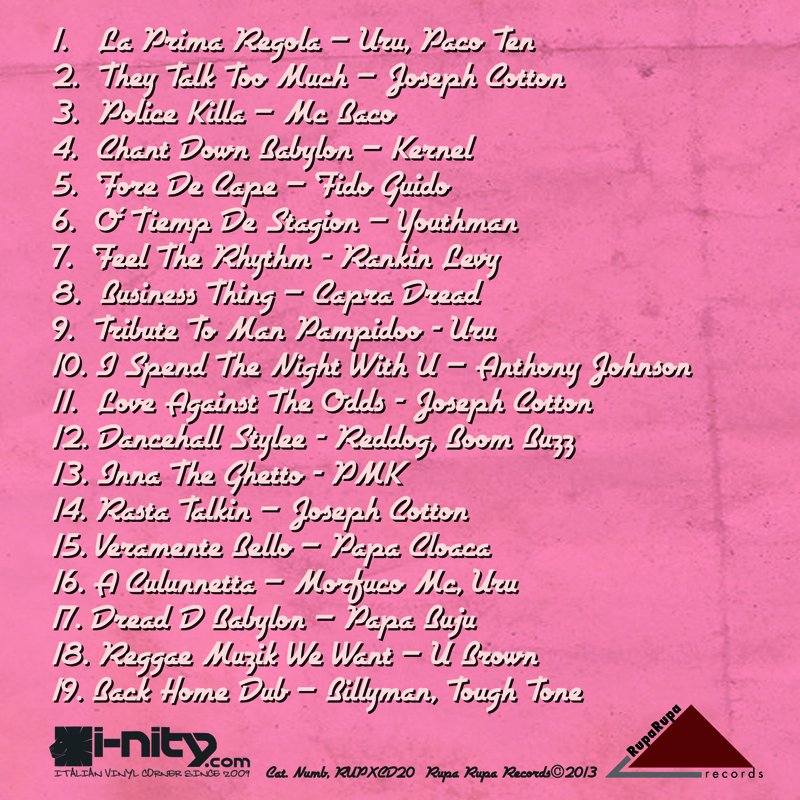 La lista degli artisti che vi partecipano è davvero importante: Joseph Cotton, U Brown, Anthony Johnson, Rankin Levy, Kernel; ma assolutamente non da meno il roaster degli artisti italiani: Fido Guido, Pmk, Reddog e Boom Buzz, Morfuco, Uru, Pacoten,Capra Dread Papa Buju, Billyman Youthman Sant'Antonio Rockers, Tought Tone, Papa Cloaca, Mc Baco.
Di sicuro sul disco è presente una fetta importante della scena reggae-dancehall ed hip hop italiana. La Formula è sempre la stessa ed il nome della compilation lo suggerisce: i riddim di Rupa Rupa Records a disposizione di singers e dj che riescono a colorare il disco di tantissimi stili e liriche, come accadrebbe in una infuocata dancehall open mic....
In attesa del volume 2 non vi resta che ascoltarlo nella sezione releases e magari comprarlo perchè il prezzo è di quelli anticrisi....5,99 euro in formato cd e 6,99 su i-Tunes....
Il distributore ufficiale è naturalmente I-nity, partner e costola distributiva di Rupa Rupa Records.
Con pochissimi click potrete comprare la vostra copia direttamente su:

Per i clienti di I-nity sarà anche disponibile la T-Shirt del Rupa Rupa Showcase stupendamente disegnata da MariaPan e che potrà essere acquistata insieme al cd.
ENJOY!!!