Freedom Fighters
Uru Mangas, with his Chiricahua Tribe fighter name proudly present his new 7" : Freedom Fighters.
Produced by Billyman and Uru, main producers from Rupa Rupa, is a Dj style ragamuffin 90's style as the house's speciality...
Uru sings, in Campanian patois, about the daily fight for liberty. About the people that are fighting all around the world to defend their rights. A lot of unknows heroes who are fighting to defend their homeland and themself lifes, remimbing to all of us that we have to fight for our liberty against Babylon who is killing our Roots and Culture, day by day....
Listen it on our Soundcloud page
Search on you favourite shop, and you can also find it on our online shop: www.i-nity.com
All Around The World – Anthony Johnson / No One Knows – Tough Tone

RUPA RUPA RECORDS' brand new 7" available, featuring on A side the new Anthony Johnson's tune "All around the world", and on B side "No one knows" by Tough Tone Band.
The riddim performed by Tough Tone and produced by Rupa Rupa Records is named "No one riddim". The riddim reminds an early rub-a-dub strictly from Jamaican roots. and Anthony is performing the song with his powerful lyrics.Tough Tone are a reggae band playing roots reggae music enriched by dub, funk and soul music.
The videoclip (view) is well made and well performed by main actor Antonio Speranza, featuring the band's musicians. It was filmed in Cilento (South Italy), their homeland and was produced by Immaginarti.
The single is available on 7"vinyl at www.i-nity.com and all digital stores.
Lion Soldier 7" - LIMTED EDITION -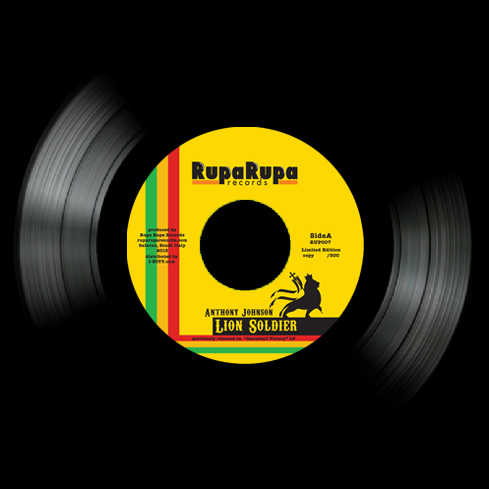 Out now Lion Soldier, on 7" vinyl support. One of the best tunes by Anthony Johnson, extracted from the Dancehall Victory LP.
Lion soldier played by several top sound systems all over the world is out now on 300 copies LIMITED EDITION only for 45rpm vinyl lovers.
Anthony Johnson perform, as usually, this Ska tune with his veteran voice and conscious lyrics, collecting another crucial stone in his mighty career.
Don't miss !!!